About to embark on your first ever eye test. There is no need to be too stressed out or overly concerned. To ease your mind, this article will detail everything you need to know regarding the procedure, pricing, types of testing, and more.
Eye tests are not only reserved for the elderly. Optometrists perform these checks for a wide range of different ages and purposes. Tests utilize cutting-edge technology to detect everything from near and far-sightedness to color deficiency and countless other eye-related conditions.
If you've been putting it off for a while, remember that the entire process typically takes no longer than 30 minutes. In addition, unaddressed eyesight issues will naturally decline the longer they go undiagnosed. A routine assessment could be the ticket to better eyesight and clarity in your day-to-day life.
Arranging an Appointment – The First Steps
As outlined in this article from Optometry Australia, more than half of our national population have some level of degradation to their long-term vision – with women experiencing issues at a slightly higher rate than men.
In Australia, the cost of eye tests is subsidized under Medicare and can therefore be bulk billed. This system has made these check-ups affordable and cost-effective for anyone covered under the Medicare scheme.
Second, eye tests do not require a referral from a doctor. Anyone can arrange an appointment and begin their journey into the world of optometry.
Establishing a Base
The initial phase of your first appointment involves a basic exploration of your eye health history, work, hobbies, and lifestyle. This is a non-invasive process that is simply used to establish a surface-level understanding of your circumstances prior to the exam.
At this point, you can raise any concerns regarding your vision and eyesight. Overall, the information gathered helps the optometrist to tailor your upcoming test.
The Different Types of Tests
A visit to the optometrist isn't the same for everyone. If you require a comprehensive test, expect the following
Visual Acuity Test and Refraction (measuring the ability to identify objects up close and in the distance – typically in the form of a letter chart)
Colour Deficiency Testing (measuring for deficiencies across the spectrum of green, blue, red, and yellow)
Peripheral Assessment (measuring side-to-side vision and the functionality of the corner of your eyes)
General Eye Health Assessment (a close inspection of the physical elements of your eye, general function, and each individual component – including your cornea, cataracts, optic nerve, retina, and more) 
Recording the Results.
In a similar vein to x-rays and other medical tests, your optometry clinic will utilize intuitive technology to keep a record of your eyesight level and function. Each eye test process will involve the capturing of detailed retinal photos and infrared imaging scans. The optometrist then applies their expert analysis to assess the results and determine the most appropriate path forward.
Other Measures
As we noted earlier, an optometrist will tailor each test to your specific circumstances and areas of concern. The following tests may be performed if required.
Fundoscopy

A fundoscopy is generally quick and painless. This exam involves the use of a magnifying glass positioned to review the back of the eye (the fundus). The eye doctor may also utilize eye drops to dilate the pupil to enable access to the fundus area. A Fundoscopy is performed to identify instances of glaucoma, macular degeneration, eye cancer, optic nerve problems, or eye injuries.
Slit-lamp biomicroscopy

Through a combination of a powerful microscope and bright light, a split lamp biomicroscopy is carried out to assess the anterior of the eye (the front section that lies between the cornea and the iris). This measure is designed to review your cataracts, corneal diseases, and various other abnormalities related to the anterior area. 
Tonometry

You may hear this next measure referred to as an 'eye pressure check'. Essentially, a tonometry test is designed to review fluid pressure across the inside of your eyes. This test, which utilizes a device known as a tonometer, is conducted to reveal issues related to glaucoma. If the pressure level is too high, glaucoma could be the underlying cause.


Eye Care Solutions
Following your exam, the optometrist may recommend a variety of different solutions. Depending on your circumstances and individual results, you may receive brand new;
Optical Lenses
Sunglasses
Contact Lenses
Safety Eyewear
Within each category of eyewear, your optometrist will create a personalized prescription - ensuring that any subsequent eye care solutions are not only effective but also as comfortable as possible. From here, you will have a base of information that can be adapted if your eyesight changes over time.
Follow Up Appointments
Eye prescriptions are naturally subject to change. Our eyesight can decline because of aging or medical conditions such as arthritis, diabetes, and strokes. In addition, each patient must hold a valid and recent prescription to purchase any new lenses or glasses.
So, how often should you book a routine eye assessment?
As long as you don't experience any blurry vision, pain, or discomfort, the general recommendation is once every two years. In a similar vein to a dental clinic, your optometrist is also likely to get in touch whenever the next routine assessment is scheduled. Of course, the frequency may increase for individuals that suffer from more serious eye conditions.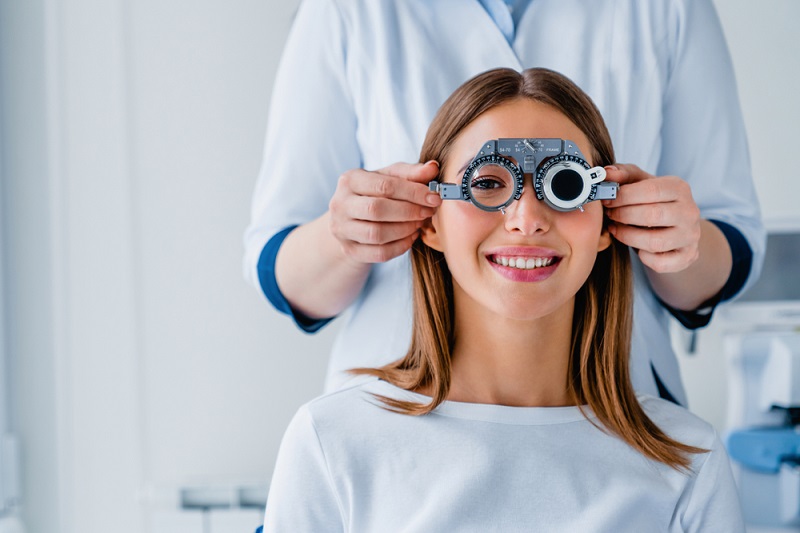 Connect With Your Local Optometrist
Whether you're reaching a certain age or experiencing eyesight complications, we recommend that you connect with an optometry clinic as soon as possible. This can be over the phone, via an online inquiry, or by stopping by their physical location yourself.
Optometrists are thorough, professional, and accurate in their assessments. In addition, they provide crucial ongoing support as you navigate through your eyesight journey.
Your eye exam may even give you peace of mind that everything is in good shape and working order. Whatever the result, taking the leap and arranging your first eye test is never a waste of time.